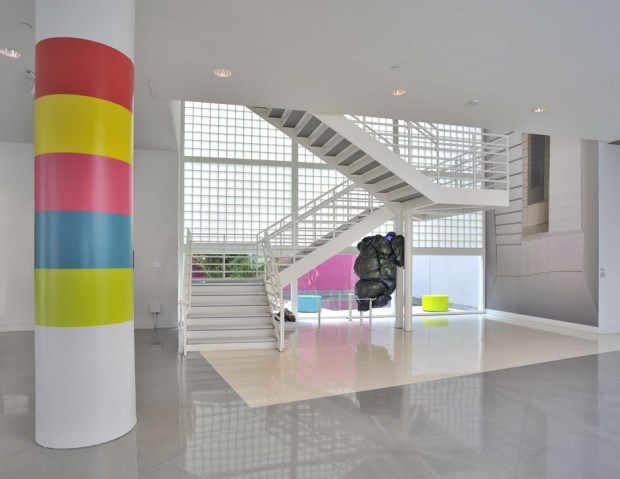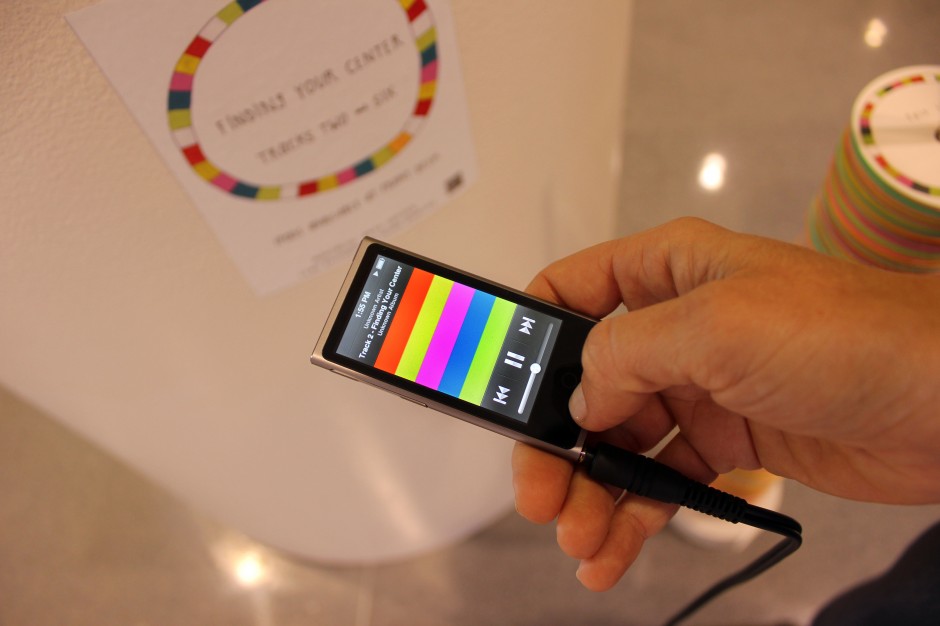 Finding Your Center is a self-help audio tour and distributed sculptural installation that playfully responds to our quest for calm, balance, and equilibrium in the face of the demands of modern life. Using color, voice, shape, and sound—and responding to the unique architectural features of Yerba Buena Center for the Arts—Susan O'Malley and Leah Rosenberg lead visitors through the exhibition spaces in search of an elusive center that is both physical and internal.
The project begins at the central pillar in YBCA's anteroom and includes three additional locations in and around the galleries of the ground floor. Using a bright color palette designed to induce feelings of harmony, Rosenberg responds to the building's repetition of the classic column shape by highlighting existing cylindrical forms as well as suggesting new ones. An edition of round colored stools, which visitors can use to rest and reflect, accompanies her installation. O'Malley's audio tour refers to and engages with Rosenberg's painted sculptural elements. As the affable tour guide narrator, she interweaves positive affirmations with moments for self-reflection and gentle prompts for listeners to engage with the exhibition environment in ways that inspire calm.
Finding Your Center is conceived in dialogue with Montalvo Arts Center's current multi-year theme about health and wellness entitled Flourish: Artists Explore Wellbeing and is envisioned as a site-specific response to the decentralizing impulse of BAN7. Consistent with Montalvo's commitment to fostering cross-disciplinary collaboration, the project features partnerships with San Francisco-based writer Christina Amini, Bay Area industrial designer Benjamin Laramie, and Seattle-based composer Tiffany Lin. Much of this project was conceived and developed by the artists while in residence at the Lucas Artists Residency Program at Montalvo Art Center.
– Donna Conwell, Curator, Montalvo Arts Center.